Staff Bio
PETER KNIGHTS
FOUNDER & PRESIDENT
After graduating from the London School of Economics, Peter Knights first worked on wildlife trafficking as an investigator and campaigner for the Environmental Investigation Agency. He specialized in global on-site investigations and campaigning against the trade in wild birds for pets, as well as consumption of endangered species in traditional Chinese medicine, such as bear gallbladder, rhino horn, and tiger bone. Peter's investigations have been featured in the TV series "Animal Detectives." On birds, this work led to over 150 airlines stopping the carriage of wild birds and to the Wild Bird Conservation Act, which cut imports of wild birds into the US from 800,000 to 40,000. As a director of the Global Survival Network, in 1996, he introduced conservation to the concept of demand reduction, that is now widely accepted as an important tool in solving trafficking problems.
While working across Asia, Peter created the first international program aimed at reducing demand for endangered species products. He received an Associate Laureate of the Rolex Award for Enterprise for this work. WildAid's demand reduction program uses sophisticated advertising techniques, donated airtime, and celebrity spokespeople with the message "When the buying stops, the killing can too." More than 100 globally-recognized actors, athletes, musicians and business leaders have appeared in WildAid campaigns. Peter is still
working with his first ambassador, Jackie Chan. Since then, WildAid ambassadors have included Yao Ming, Prince William, David Beckham, Leonardo DiCaprio and many other famous names. The organization has been active in China, Taiwan, Hong Kong, Singapore, Thailand, Malaysia, Canada, and the US. It now attracts more than US$289 million of donated media space annually, primarily in China.
As well as contributing to the protection of manta rays and whale sharks, WildAid's shark campaign led by Yao Ming has contributed to a 50-70% decline in consumption of shark fin in China, and an 81% decline in shark fin imports over three years. It has also helped to secure fin bans in a number of US states. Peter has been awarded a regional Jefferson Award for public service in honor of his role in achieving California's ban on shark fin. Peter has led campaigns that have resulted in the banning of ivory sales in China, a more than 60% decline in the price of ivory, and a more than 50% decline in the price of rhino horn in China and Vietnam. He created, produced and featured in the Emmy-nominated documentary "Saving Africa's Giants with Yao Ming," and is currently producing and co-directing five documentaries for Chinese TV and two for Vietnam. He has also created and produced dozens of public service announcements. In 2000, Peter co-founded WildAid as has served as Executive Director and now CEO. In 2017, the organization works in 12 countries, has over 45 full time staff, a US$10 million budget leveraging over $289 million in donated media, and was recently given 100 out of 100 by Charity Navigator for transparency and efficiency.
HARRY "HANK" LYNCH
CHIEF EXECUTIVE OFFICER
Harry 'Hank' Lynch is an established nonprofit leader and fund-raising authority. He holds a Master of Science degree from the University of Delaware, where he was selected into the prestigious Longwood Fellowship program, and a Bachelor of Science degree in Horticulture from the University of Maryland. He studied advanced executive leadership and management at Harvard University's John F. Kennedy School of Government and the University of Pennsylvania's Wharton Executive program.
Over the past twenty-five years, Hank has successfully and expertly led regional and national mission-driven organizations with annual budgets up to $30M with over 450 staff. These included an internationally respected farm animal welfare organization, public gardens, maritime museums, a governmental cruise ship port authority and the nation's first planned community. Hank and his teams have raised over $375M in philanthropic support. Hank recently served as the CEO of Farm Sanctuary, which was the first organization created to address the farm animal cruelty and environmental issues associated with factory farming. Utilizing a strategy to educate and influence consumers to adopt plant-based diets, Hank and his team grew this national organization's social media following to over 1M and enhanced its world-class reputation for impactful advocacy. Under his leadership the organization experienced unprecedented growth, never-before achieved financial success and broad international outreach. In 2018, Hank took on the leadership of Reston, Virginia, the nation's first and largest Biophilic and environmentally focused community. In Reston, he managed a full and part-time staff exceeding 500 with 60,000 members and 2,000 acres of woodlands, parks, lakes, open space, and wetlands.
Hank is an experienced and knowledgeable government lobbyist, having successfully received both funding and/or policy support from state leaders, the United States Congress, and the U.S. Department of Agriculture. He is a sought-after leader in the communities in which he has served, frequently selected to serve on key community committees and boards.
Hank's expertise, leadership, and management style was a featured case study in Dr. Mark Light's Antioch University Ph.D. dissertation titled, Finding George Bailey: Wonderful Leaders, Wonderful Lives. Over a 3-year period, Dr. Light followed and studied Hank's work and sought input from Board members, community leaders and staff who knew and worked with him. Among Dr. Light's many observations, he stated that Hank "does not let his ego drive his behavior but, if you are going to pick someone to run a team, he will win the game."
Because Hank is a passionate nonprofit professional committed to bettering his communities, he has also served as an active keynote speaker, local nonprofit board member, and organizational development consultant. His most proud volunteer work came serving as board chair for Spring Garden Waldorf School in Copley, Ohio, successfully leading them through a financial and organizational crisis.
JOHN BAKER
CHIEF PROGRAM OFFICER
John leads and manages WildAid's global programs including program strategy, institutional fundraising, and international program management. Since 2013, John has helped expand WildAid demand reduction campaigns in Asia and managed organizational growth with a doubling in staff, funding and budget. He brings valuable expertise from 15 years of leading and managing conservation programs in Southeast Asia and 12 years at Point Blue Conservation Science. John's entrepreneurial spirit and hands-on attitude have helped launch innovative rural development projects in Thailand with pre-eminent social entrepreneur Mechai Viravaidya, manage a conservation program for the largest protected area in Laos, and establish an award-winning family planning program for the Vietnam Women's Union. He also researched and edited a guidebook to Thai national parks and a coffee table book on Thai flora and fauna. During one watershed moment in recent Thai political history, John seized the opportunity to write speeches for Thailand's former Prime Minister Anand Panyarachun. He speaks Thai, Lao and proficient Vietnamese.
ROBERT PINNIX
CHIEF DEVELOPMENT OFFICER
Robert joined WildAid as the Chief Development Officer in 2020. Prior to WildAid, Robert was the Executive Director at the March of Dimes, Greater Bay Area and has over 12 years of experience building and leading diverse revenue-generating portfolios for organizations such as the National Multiple Sclerosis Society and San Francisco AIDS Foundation. Robert began his career in sales and marketing at IBM but made the decision to transition to philanthropy after a rewarding experience serving on the board of directors for a nonprofit in San Francisco. He is excited to now align his professional experience with his passion for conservation and wildlife protection. Robert is originally from North Carolina and graduated from North Carolina State University. When not working, you can find Robert running the incredible trails and scenic routes all around the Bay Area. He also enjoys skiing, surfing, and any outdoor activity with his partner and son.
ANGELA KIRKMAN
SENIOR DIRECTOR, PARTNERSHIPS
Angela leads WildAid's institutional fundraising and partnership development to support its work around the globe. She has been working in conservation since 2003, including 10 years at Conservation International in business development, program management and communications roles. Angela has extensive experience securing funds from governments, multilateral institutions and foundations. She has brokered partnerships with NGOs and the private sector for conservation and sustainable development projects across the Asia-Pacific region including Indonesia, China, Cambodia, the Philippines, Papua New Guinea, Samoa and Micronesia, as well as large scale marine protection initiatives in the Pacific. Angela has a Masters in Marine Science and Management from the University of New South Wales, Australia and is fluent in French. She is happiest near the ocean. A keen sailor, she spent 20 days cruising from the Galapagos Islands to the Marquesas Islands in French Polynesia. Angela ran a dive operation in the Tuamotu Islands and has logged over 700 dives.
CORIE KNIGHTS
SENIOR DIRECTOR MAJOR GIFTS, EVENTS
Corie manages individual philanthropy as chief fundraiser for WildAid and is responsible for raising millions of dollars to enable the organization's programs. Corie also leads event planning, ambassador relationships, corporate partnerships and donor trips both domestic and abroad. She has produced dozens of events ranging from corporate talks and donor hosted parties to WildAid's annual star-studded gala evening. WildAid's most recent gala at The Beverly Wilshire in Los Angeles raised $2.4 million dollars for WildAid's programs. Our 20th Anniversary celebration gala will take place at The Four Seasons on November 14th. For the past 11 years, Corie has been a guide and host on WildAid's annual whale shark trip where supporters are able to experience conservation first hand by swimming with these rare ocean giants. Corie also leads our donors on expeditions to the Galapagos Islands onboard our partner boat "WildAid's Passion" and to partner program sites in Africa to witness the conservation impact of WildAid's work.
MEAGHAN BROSNAN
MARINE PROGRAM DIRECTOR
Meaghan has worked for nearly 15 years to reduce illegal fishing activity around the world, and is an expert in domestic and international fisheries management, compliance, and enforcement. She spent four years at-sea enforcing fisheries law, and served as the deputy chief of the Coast Guard's Living Marine Resources Enforcement program. Meaghan was also the lead manager of the Pew Charitable Trusts' End Illegal Fishing Campaign. Additionally, she founded Exulans, Inc., a global consultancy providing compliance and enforcement solutions for ocean conservation to governments, the private sector, and non-governmental organizations. In these roles, Meaghan has worked in collaboration with senior government leaders and diverse public and private sector organizations in East Africa, Southeast Asia, the Western and Central Pacific, Central America and the United States. Meaghan continues to serve in the U.S. Coast Guard Reserve, leading a department in the San Francisco Bay area. When she is not nerding out on ocean conservation topics, Meaghan can be found kayaking, hiking or camping with her family.
JACLYN SHERRY
DIRECTOR OF OPERATIONS
Jaclyn leads Operations at WildAid, overseeing a broad array of tasks to drive organizational efficiency and effectiveness, and acts as the production manager for PSA and documentary shoots. Her work includes managing the organization's annual work plan process, administering WildAid's small grants program, and working closely with the Board of Directors. She joined the team in 2014 as the Executive Aide to founder and CEO Peter Knights. Prior to WildAid, Jaclyn was the Global Director of Operations/VP Special Projects at a tech recruiting start up in San Francisco and Berlin. She is passionate about exploring, active citizenship, and protecting the planet and its species (especially sharks). With a longstanding interest in both social and environmental sciences, she holds a B.S. from Cornell University.
CHRISTINA VALLIANOS
WILDLIFE PROGRAM DIRECTOR, ASIA
Christina helps research, develop and oversee WildAid's species campaigns, having designed and led the pangolin campaign since inception. Her work includes managing project implementation in coordination with the international team, campaign planning, creative content development, grant writing, and authoring of WildAid's published reports. Before joining the team in 2013, she designed enrichment programs for river otters at the Oakland Zoo, taught ecology to youth at summer camps in Massachusetts, and worked in account management at a design agency in San Francisco. She is passionate about sustainable food projects, loves hiking and photography, and has backpacked throughout South America and Europe, most recently completing the Tour du Mont Blanc. She is a dedicated environmentalist who believes wild places and animals deserve protection, and joined WildAid to support its conservation efforts. Christina holds a B.A. in Psychology from the University of California, Berkeley.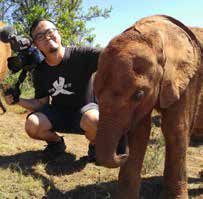 GARY YIP
DIRECTOR OF VIDEO PRODUCTION
Originally from Hong Kong, Gary joined WildAid in 2010 after working for several years on numerous video campaigns for schools and non-profits as a freelancer in the US. Gary has worked with Jackie Chan, Yao Ming, Prince William, David Beckham, Danai Gurira, Lupita Nyong'o and many others to create some of WildAid's most memorable PSAs, behind the scenes clips, and mini-documentaries. Gary also filmed the Emmy-nominated Animal Planet documentary "Saving Africa's Giants with Yao Ming", CCTV's "The End of The Wild", and Shanghai Media Group's "Celebrity Explorers" — the latter a five-part documentary series for Chinese television. Gary speaks, reads, and writes in Mandarin, Cantonese, and English. He enjoys all things technology (leading to his default designation as Head of IT), video games and movies, and loves to travel to arctic climates to photograph polar bears and the northern lights.
CLAIRE ALTIER
CONTROLLER
Claire joined the team in April of 2018 and is responsible for all financial reporting, forecasting, and audit preparation for WildAid's US and international offices. She has 10 years of accounting experience and has held head of accounting roles with three different companies, each in unique areas of the for profit sector. While this is her first foray into non-profits, Claire has been a life-long wildlife advocate and supporter of conservation efforts and is thrilled to make the jump into a more mission-driven atmosphere. She attended the University of Vermont, majoring in International Business, minoring in Studio Art, and concentrating in Animal Sciences. Outside of the office, Claire is an avid scuba diver and loves experimenting with underwater photography.
SILVIA BOR
MARINE PROGRAM OFFICER
Silvia has worked with WildAid Marine since 2016 to reduce illegal fishing and poaching in some of the world's most biodiverse places. Her work includes project planning and implementation, fundraising and grant writing, and sharing marine successes with the community. She co-managed the development of WildAid's marine website to increase awareness for marine conservation and provide tools for marine practitioners, as well as the creation of WildAid's Marine Protection Index to evaluate marine projects on their progress towards a complete Marine Protection System. Silvia has a BA in Communication from Stanford University and an MA in International Environmental Policy from the Middlebury Institute of International Studies at Monterey. She loves traveling, reading, yoga, and exploring California with her husband, son, and two Huskies.
JAZMINE LIU
SENIOR ACCOUNTANT
Jazmine is the staff accountant at WildAid and is responsible for the day-to-day upkeep of the ledger and financial index, and for supporting the senior accountant in executing the monthly close and yearly audit. Prior to that, she had a few accounting roles in both for-profit and non-profit organizations, where she gained some great accounting experiences. Jazmine holds a Bachelor Degree in Business Management Economics with an emphasis in accounting from the UC Santa Cruz. She is fluent in English, Mandarin and Cantonese. Outside of office, Jazmine is a foodie and loves to explore different Asian restaurants in the Bay Area.
FLORA MASSAH
VIDEO EDITOR
Flora produces engaging social media content, video shorts and PSAs. She also creates animated graphics and manages the video library. Flora joined WildAid in spring of 2019 after four years living abroad in New Zealand and Iran. She has a passionate history working in the nonprofit sector, and believes video is a powerful tool for social change. Flora holds a B.A. in Anthropology from Princeton University. In her spare time she enjoys traveling, cooking and hiking.
ANGELA RICHARDS
WILDLIFE CAMPAIGNS GRANT ASSOCIATE
Angela works on our wildlife programs team, specifically in the areas of program content and grant writing. Angela's first career was in veterinary medicine, working with a variety of species from rabbits to whales. Wanting to focus on animal advocacy, Angela returned to college and earned two master's degrees, in Museum Studies and in Business Administration, with an intent to help science museums and non-profits. After years of focusing on museum funding, Angela is excited to bring her skills to her true passion: animal welfare and environmental conservation. When she is not researching conservation, Angela spends her time running, hiking, and working with the Adolescent and Young Adult program at UC Davis Comprehensive Cancer Center.
BRIDGET SCHULTZ
DEVELOPMENT ASSOCIATE
Bridget works closely with donors to create community engagement and support for the organization. Before joining WildAid, Bridget worked as a Marketing Associate in the publishing industry and tech startup space before pivoting to the world of Development. Bridget holds a Bachelor's degree in Public Relations from Champlain College in Burlington, VT. Originally from New York, Bridget moved to the Bay Area and fell in love with Oakland, where she now resides. When she's not at work, you can find her buried in a good book, outside hiking or setting out on an adventure. Bridget is deeply passionate about social innovation, environmental conservation, and the power of education. She is delighted to be part of the WildAid team and looks forward to helping do her part in protecting our planet. 
MOLLY SHANE
MARINE PROGRAM COORDINATOR
Molly Shane, Marine Program Coordinator – Molly currently serves as the Program Coordinator on WildAid's Marine Team. Her work includes fundraising, event planning, and logistical coordination for WildAid Marine's new Regional Leadership Hub program. Prior to WildAid, Molly served on the Marketing & Communications team at Fair Trade USA and has extensive experience working with non-profits on marketing and branding, wildlife conservation, sustainable tourism, and environmental education. Molly holds a BA in Sociology / Anthropology from Middlebury College and a MA in International Environmental Policy from the Middlebury Institute of International Studies at Monterey. She also works as a barre fitness instructor and loves to hike, bake, and travel.
CAROLYN SOTKA
MARINE GRANTS OFFICER
Carolyn works with WildAid's Marine Program to support institutional fundraising for project sites. Carolyn has 20+ years working in ocean conservation and brings a strong understanding of the importance of MPAs and community-based coastal/fisheries management. Carolyn helped build and secure funding for the COMPASS California program, in conjunction with Stanford University, to improve science communication and public engagement in the implementation of MPA networks. With NOAA, Carolyn co-led an initiative of government agencies, universities, and NGOs to advance understanding of the connections between ocean/wildlife health and human health. She is co-author of The Death and Life of Monterey Bay: A Story of Revival and a contributing author to The Ocean: The Ultimate Handbook of Nautical Knowledge; Global Climate Change and Human Health: From Science to Practice, and national policy reports. Her work has been featured on NPR, PBS, BBC, National Geographic, SEVENSEAS and Sunset magazine. She loves to travel with her children to remote islands and share stories about intersection of culture, wildlife and sustainability
CARRIE SULLIVAN
DEVELOPMENT AND ADMINISTRATIVE ASSISTANT
Carrie Sullivan is WildAid's Development and Administrative Assistant. Carrie comes from a long background in non profit administration, recently at UpStart. Originally from Minneapolis, MN, she spends her free time taking ballet classes, riding bikes, reading and walking dogs for the SPCA.
NELSON VALEL
JUNIOR ACCOUNTANT
Nelson is the junior accountant at WildAid and is responsible for supporting the accounting team. Prior to joining WildAid Nelson was working at a non-profit organization in the bay area. Nelson holds a bachelor's degree in Economics from San Francisco State University. In his spare time, he enjoys traveling, working out, and in general being outdoors.