By: Benjamin Haas
This year, China's government enacted a ban on ivory sales and started closing down carving workshops, despite ivory carving being seen as an 'intangible cultural heritage'. How did such an astonishing U-turn come about?
For years Chinese government officials were followed around the world, at every meeting, by a single issue: the scores of dead elephants across Africa, and the international community that blamed China for this "ivory "holocaust". 
Even the Chinese premier, Li Keqiang, could not escape lectures on poached elephants and the evils of China's legal domestic ivory trade from foreign leaders. For years, China deflected the criticism with claims of a long cultural heritage and incremental policies, such as a ban on ivory carving imports two years ago.
And then in June 2016, then president Barack Obama fulfilled a promise made during a meeting with his Chinese counterpart, and imposed a near total ban on domestic ivory sales. China followed suit, and officials shut 67 carving workshops and retail stores in March 2017, with another 105 set to close by the end of the year. It was an astonishing U-turn – a far bigger step than campaigners had dared to hope for.
So how did this come about? In many ways, the country's swiftly implemented ivory ban is a textbook case of international pressure effectively extracting concessions for a country that often bucks global norms.
The ban even met opposition within the government, with the State Forestry Administration arguing that complete prohibition was unnecessary. "[It] argued that from a business standpoint, wild animals are the same as natural resources and they can be used sustainably," says Zhang Li, an elephant protection expert at Beijing Normal University, who consulted the government on the ban. The idea was that "foreign animals don't matter", Zhang says.
This view was eventually overruled by the cabinet, and the State Forestry Administration has now been tasked with implementing the policy. Despite the administration's initial resistance, experts said enforcement is a priority at the very top of the government and lower-level agencies will be compelled to act.
It is perhaps even more significant considering China has long claimed that ivory carving is an integral part of its cultural history, stretching back over 3,000 years.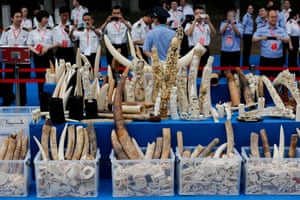 China actually used to have its own species of elephant, but – ironically enough – it has been extinct for more than two millennia. Ivory was used to carve statues of deities and medallions with garden scenes, which were coveted by court officials during the imperial era.
Such was ivory's apparent prestige, that in 1974, China gave the UN a 1.5-metre long propaganda carving of a railroad bridge in a jungle etched into eight elephant tusks. As recently as 2007, ivory carving was listed as a "national intangible cultural heritage".
Chinese are fiercely proud of their cultural history – conversations can often turn into a lecture on why the country's cuisine or art is superior to western counterparts – yet they could not get away from the fact that the demand for ivory across Asia was fuelling the destruction of hundreds of thousands of elephants at the hands of poachers. (More than 100,000 savanna elephants were killed between 2007-14, according to one census.)
So as China came to be seen as the main culprit for elephant poaching, attitudes within the country began to shift. Surveys in Beijing, Shanghai and Guangzhou – the country's biggest cities – found that 95% of respondents wanted the government to ban the ivory trade to protect African elephants.
The change in attitudes came more from influential voices both within and outside the nation, while most NGOs and activists were forced to adopt a softer tone on the matter, constrained by diminishing space for civil society.
"There's a lot of groups talking about ivory, but no one would come out and say: 'China needs to ban ivory,'" says Steve Blake, a campaigner at WildAid in Beijing. "It's not civil societies style in China to influence policy directly, it's much more valuable to build public awareness."
"It's a combination of domestic buzz and more direct international pressure that eventually led to the outcome," he adds.
A major player in the ban was sportsman Yao Ming, who has worked tirelessly to encourage his fellow countrymen to shun ivory. In 2012 he travelled to Kenya and South Africa to film a documentary where he encountered the bodies of five poached elephants. A year later he launched a leading ad campaign alongside international NGOs WildAid and Save the Elephants, addressing the Chinese overconsumption of ivory and the destruction of elephant populations.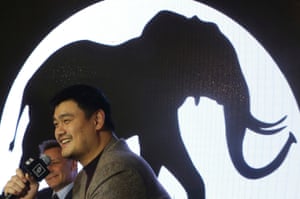 In 2014, he submitted a petition to parliament calling for a ban on ivory sales, shining a spotlight on the issue at the year's most high-profile political meeting, the Chinese People's Political Consultative Conference. He is also a member of the top advisory body to the country's parliament, and repeatedly raised the issue in multiple closed-door sessions.
With Yao Ming and representatives from foreign countries shining the light on China's complicity in the reduction in elephant numbers, the pressure kept building.
"The premier had meetings with many foreign leaders, and every time they would bring up this issue [of ivory], so the severity of the situation was understood at the highest level in China," says Zhang.
Amid multiple open letters from celebrities and campaigners, even Prince William urged Chinese president Xi Jinping to end the ivory trade during a state visit in 2015. Prior to his visit he made a speech explicitly urging Chinese to stop buying ivory, which was shown to millions on national television station CCTV1.
"International pressure from African countries, from European countries and ultimately from the US was intense and directly led to China adopting a total ban," says Ji Wei, an independent wildlife researcher who worked with the government on the ivory ban.
China's relationship with Africa also played a huge role. It has increasingly spread its influence and invested heavily across the continent – in 2014 alone, China signed more than £56bn in construction contracts there. So the fallout of the ivory trade became closer to home.
"In recent years, as China has become more involved in African affairs, the protection of endangered species like elephants and rhinoceros has increasingly attracted the attention of the Chinese government," Zhang adds.
A barrage of press reports consistently named Chinese nationals as responsible for illegal ivory smuggling, and rumours swirled that Chinese diplomats were complicit. Indeed, in June, Uganda's president accused Chinese diplomats of smuggling ivory, before quickly apologising as relations with China quickly soured.
So in the wake of then US president Barack Obama's wildlife protection plan in 2014, which included a ban on ivory sales, China felt compelled to act – the US and China are the two largest markets, and with a US ban in place Chinese officials struggled to justify a lack of action.
A year later, when President Xi Jinping travelled to the US, the two countries announced a near total ban on the import and export of ivory and plans to curb domestic sales. 
"The way China was a few years ago it was a gaping wound, and that wound is now being healed," says Iain Douglas-Hamilton, founder of NGO Save the Elephants. "Whether it's climate change or endangered species, China is vital and has the potential to do great work or do great harm."
Since China began implementing its ban, prices across Asia have dropped, especially as retailers work to offload stocks they have sat on for years.
"Even with the price coming down, there's still a heck of a lot of poaching going on," Douglas-Hamilton said. "It's important prices have come down but it hasn't killed the trade, we're not out of the woods yet."
Stay in touch and get the latest WildAid updates.
SIGN UP
About WildAid
WildAid is a non-profit organization with a mission to protect wildlife from illegal trade and other imminent threats. While most wildlife conservation groups focus on protecting animals from poaching, WildAid primarily works to reduce global consumption of wildlife products such as elephant ivory, rhino horn and shark fin soup. With an unrivaled portfolio of celebrity ambassadors and a global network of media partners, WildAid leverages more than $308 million in annual pro-bono media support with a simple message: When the Buying Stops, the Killing Can Too. 
Journalists on deadline may email communications@wildaid.org