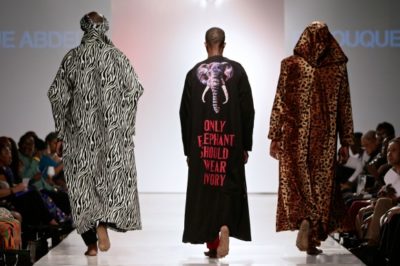 Tanzanian fashion designers on Saturday showcased a new wildlife-inspired clothing collection to raise awareness for conservation during Swahili Fashion Week in Dar es Salaam.
The designers and event organizer Mustafa Hassanali joined other influential Tanzanians, including CEOs, entertainers, religious leaders and sports stars, in a campaign to end poaching and illegal wildlife trade.
"Featuring a wildlife conservation theme at the prestigious Swahili Fashion Week elevates the poaching crisis in the public eye, and helps raise awareness about the importance of ending the devastating trade in wildlife products," said Susie Watts, WildAid Africa Program Director.
A model in an elephant design started the night's runway show, which featured fashions created by local designers Doreen Mashika, Jamilla Vera Swai and Farouque Abdela.

The designers each interpreted the wildlife conservation theme in a unique way. Doreen Mashika's pieces were of elegant khaki with natural textures, whereas Jamilla Vera Swai contrasted white and blue solids with a contemporary African motif.

Legendary designer Farouque Abdela's contributions to the collection featured bold animal prints. His warmly-applauded designs evoked the bravery of wildlife guardians who protect endangered species from poachers. Swahili Fashion Week is celebrating its tenth anniversary of promoting African talent and fabrics.
WildAid staff were present at the show to distribute T-shirts and educational materials about wildlife conservation.
The organization is grateful to Tanzanian couturier Mustafa Hassanali for making this year's collaboration possible.
Between 2009 and 2014, Tanzania lost about 60% of its elephants to ivory poachers. The country's elephant population dropped from approximately 110,000 to fewer than 44,000, according to a WildAid report.
In recent years, the Tanzanian government has taken impressive action to curtail poaching, including imprisoning poachers and ivory trafficking kingpins. Elephant poaching is reported to have dropped significantly as a result.
Broad public sentiment supports government action to strengthen enforcement against poaching and illegal wildlife trade.
WildAid partners with the Tanzanian Ministry of Natural Resources and Tourism as well as many media companies, business CEOs, religious leaders and sports stars to help raise awareness and public support for wildlife conservation.
Stay in touch and get the latest WildAid updates.
SIGN UP
About WildAid
WildAid is a non-profit organization with a mission to protect wildlife from illegal trade and other imminent threats. While most wildlife conservation groups focus on protecting animals from poaching, WildAid primarily works to reduce global consumption of wildlife products such as elephant ivory, rhino horn and shark fin soup. With an unrivaled portfolio of celebrity ambassadors and a global network of media partners, WildAid leverages more than $308 million in annual pro-bono media support with a simple message: When the Buying Stops, the Killing Can Too. 
Journalists on deadline may email communications@wildaid.org